2021.04.13
Enjoy beautiful landscape paintings of Otaru city painted by Mizuki Tanaka, Sento Eshi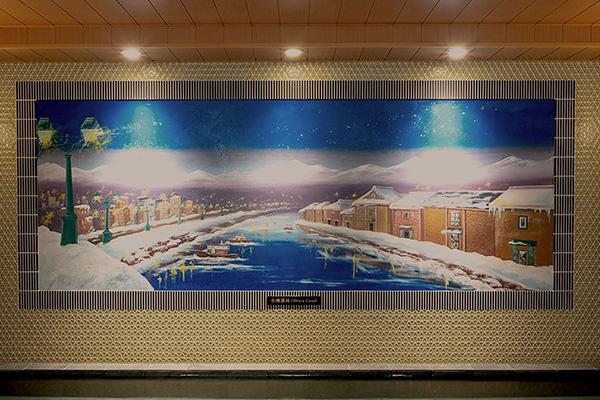 Today only three Sento Eshi remain in Japan.※
Sento Eshi, a Bathhouse painter, Mizuki Tanaka
Sento Eshi is a traditional Japanese painter who paints pictures on public bath walls.
Today only three Sento Eshi remain in Japan. One of the three is Mizuki Tanaka. She paints sometimes adventurously but sometimes delicately.
The pictures are painted with dynamic body movements and attract the hearts who look at them for their beauty and an impact different from the real view or pictures.

※as of March, 2018




Kumaji no Yu "Yama no Ne"
This is painted art of Mt. Fuji. Because of its shape, spreading out wide toward the end, it has been believed that it brings good fortune. This painting describes the scene where a steam train "Shizuka" is running in front of Mt. Yotei called "Ezo Fuji". "Shizuka" was assigned to Tenomiya in 1885 (Meiji 18 year).




Kumaji no Yu "Kawa no Ne"
Otaru Canal shows us variable aspects of beauty depending on the season. This painting describes a commanding air of the Canal in the snow with spread out "lights". The symbol of Otaru makes us look back for memories between the Taisho era and present time.

Heal the fatigue of your journey
in the spacious public bath "Kumaji no Yu"
You can enjoy the landscape wall painting of Otaru painted by Ms. Tanaka Mizuki, who is an artist specializing in works for sento, sinking in a spacious bathtub in the public bath "Kumaji no Yu".Each bath, is used alternatively day by day, by males and females, Otaru's symbol "Otaru Canal" and "Mt. Yotei" are painted.

Opening Hours:15:00~25:00、06:00~10:00
※It is closed during the hours which are not written above, due to cleaning. We ask for your understanding.

Artist Tanaka Mizuki


She started to study painting under Mr. Nakajima Morio, who was a specialized painter for public baths, when she was still in university in 2004.She became independent in 2013. She has been painting different places all over Japan (not only public baths but also private houses and shops) since then.She's also keen to promote the attractiveness of Japanese public baths "sento".